Loudoun Times-Mirror Ribbon Cutting Feature
BriteWash Auto Wash opens in Leesburg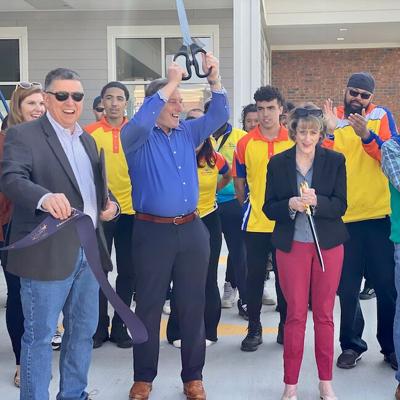 BriteWash Auto Wash, a $5 million facility, is founded by hotelier and Leesburg resident, Greg Miller. It offers both interior and exterior auto detailing services.
Miller has made a commitment to raising funds for local and national non-profits, schools, associations and organizations.
The grand opening celebration raised money and awareness for Mobile Hope, a Loudoun-based non-profit that provides support and emergency shelter to youth up to age 24 who are at-risk, precariously housed or homeless and empowers them to become self-sufficient.
The auto wash plans to work with Mobile Hope to provide employment opportunities for their clients.
BriteWash offers weekly discounts for service industry workers, first responders and educators. In its first month of operation, BriteWash raised over $2,000 for St. Jude Children's Research Hospital, a cause dear to Miller's heart. Miller has a goal of raising $50,000 for St. Jude through the end of the year.
The facility was designed with environmental conservation and sustainability in mind. It has a water reclaim system, along with ozone-based washers that operate on cold-water, reduce water use, and decrease the need for detergents. The facility is energy efficient and implements a recycling program.
For more information, visit britewashautowash.com.