Washington Business Journal Small Biz Spotlight
PM Hotel Group co-founder launches new venture — a Leesburg car wash, with plans for more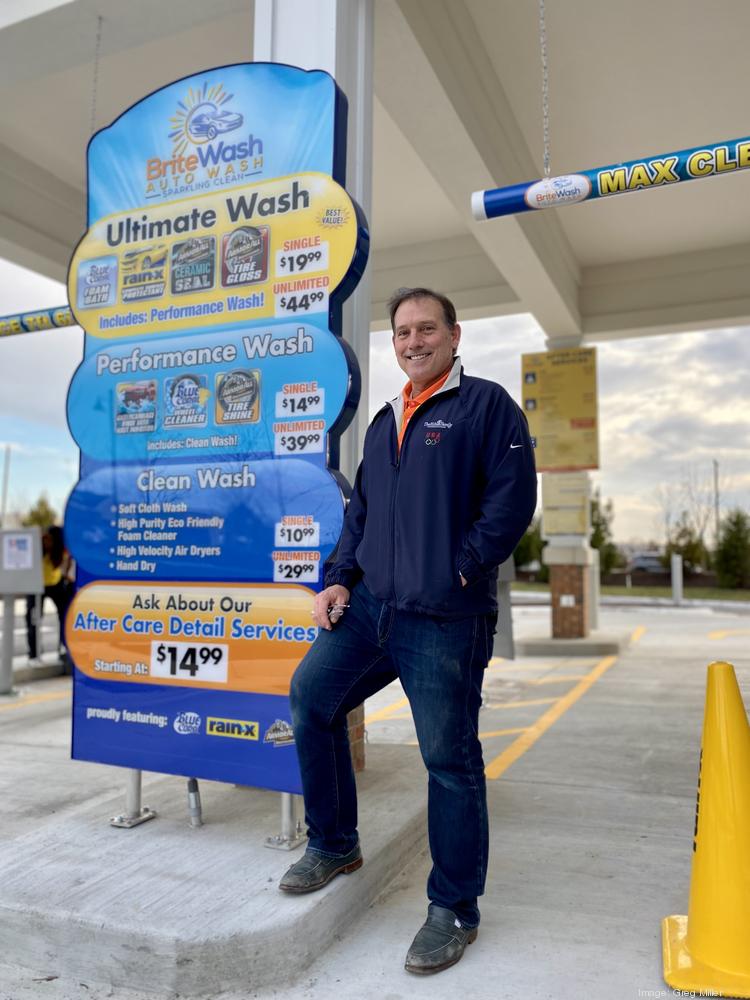 About the business: BriteWash is a new car wash in Leesburg founded by Greg Miller, the co-founder of Chevy Chase-based PM Hotel Group. The facility at 100 Robinson Mill Plaza SE, which had a soft opening in January and a full grand opening last month, is both community and hospitality focused, Miller said, from the on-site convenience store to the greeting every customer gets from its 30-plus staff.
"I'm old enough to have been through a lot of car washes," Miller said. "Nobody does that. We do that."
How it started: Miller is a hospitality guru. With PM Hotel, an affiliate of the Buccini/Pollin Group (on which he remains a managing director), he endured Sept. 11 and the Great Recession, two crises that hit the hotel sector particularly hard.
Then came Covid, which threatened — more than any other — to tear it all down and wipe out the "sweat equity" Miller had built up over the decades.
"I'm not completely wiped out," he said, "but I didn't want to be so down and out that at 61 I couldn't provide for my son who's still at Radford [University]."
The pandemic effect: "When Covid hit, I started looking at what are my other opportunities," Miller said.
He looked at restaurant franchises, but none jumped out to him as a winner. The car wash, he said, "just happened upon me," that around where he lives "there's not a great car wash experience."
He worked out a deal with the Peterson Cos., the property's owner, to build his car wash at the corner of Robinson Mill Plaza and Russell Branch Parkway, next to Lowe's. He and his three small investors would ultimately put $5 million into the project — $2.85 million in the building, $1.2 million in the equipment, and the remainder in soft costs like design and attorney's fees.
BriteWash has "all the bells and whistles you'd want in a car wash," but where it stands apart, Miller said, is the "after care where we take it from the front seat and back seat to almost giving you a full detail at the curb." Miller also put a great deal of thought into ecology — a phosphate-free citrus-based soap, an ozone-based cold-water wash instead of hot water, a rare four-tank water reclamation system that drastically cuts the gallons used per wash, and a hand wipedown rather than spot-free rinse.
As for the convenience store, he said, a full wash and detail takes time, "I don't want people crossing a busy street to get a soda."
"What do you do? It's a loss leader in order to really take care of your customer," he said.
The challenge today: BriteWash has certainly felt the effects of inflation, soaring gas prices and weakening,consumer confidence, Miller said, but its top hurdle is staffing. He hired more than 50 people to work at BriteWash at the very start, and 20 didn't show up after one week. He's at 33 now, but needs around 40 max. He pays a $15 per hour base, plus tips, and offers health insurance — he's hopeful he'll get a seasonal rush as college's let out for the summer.
"People are willing to abandon their jobs for almost no reason," he said. "I don't know what that's about."
What's next: The formal name of the Leesburg facility is BriteWash Auto Wash I LLC. Miller's first priority is ensure his investors are happy — then, perhaps, expansion with BriteWash II and III. He has a letter of intent to build one at Peterson's Avonlea in southern Loudoun, and is working with Peterson again to perhaps find another location in Fair Lakes.
Eventually he might sell "to someone I enjoy working with," as private equity seems to have taken a liking to the car wash business. But for now, he said, "I will continue to try to grow this in a way that's sustainable."